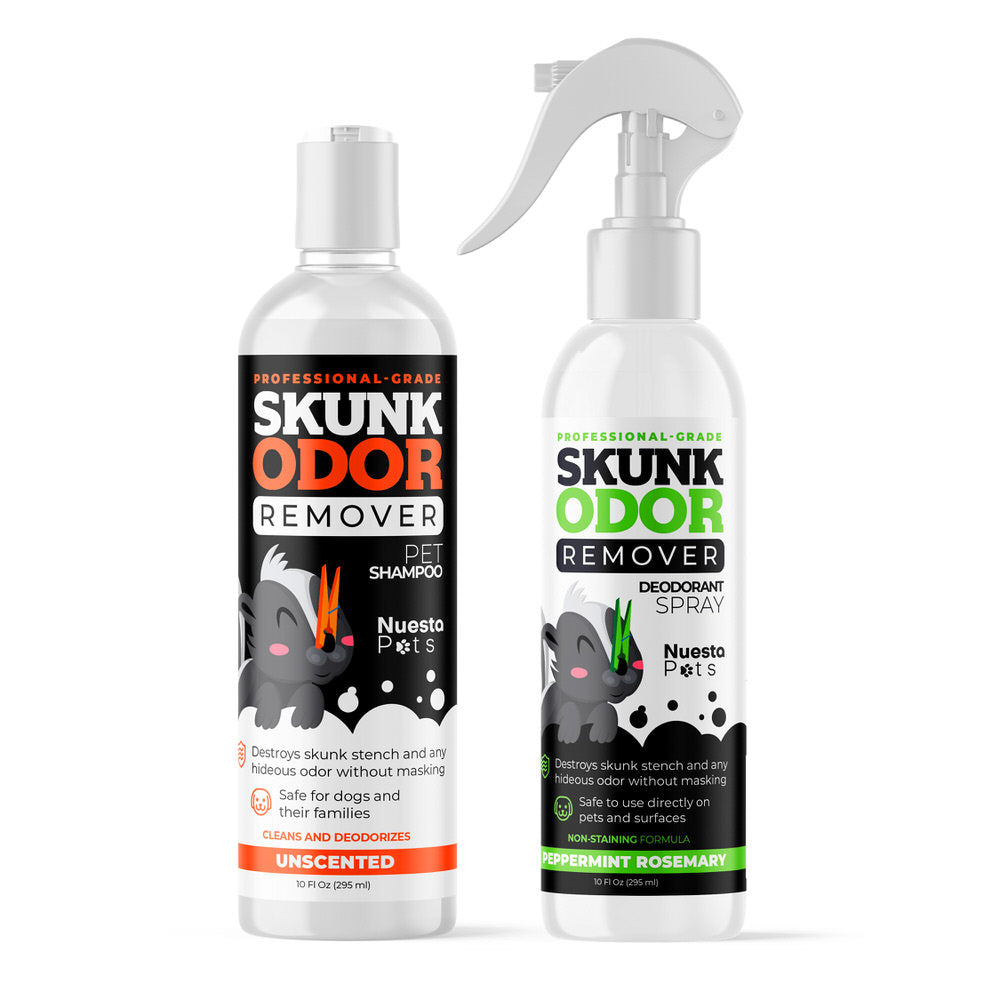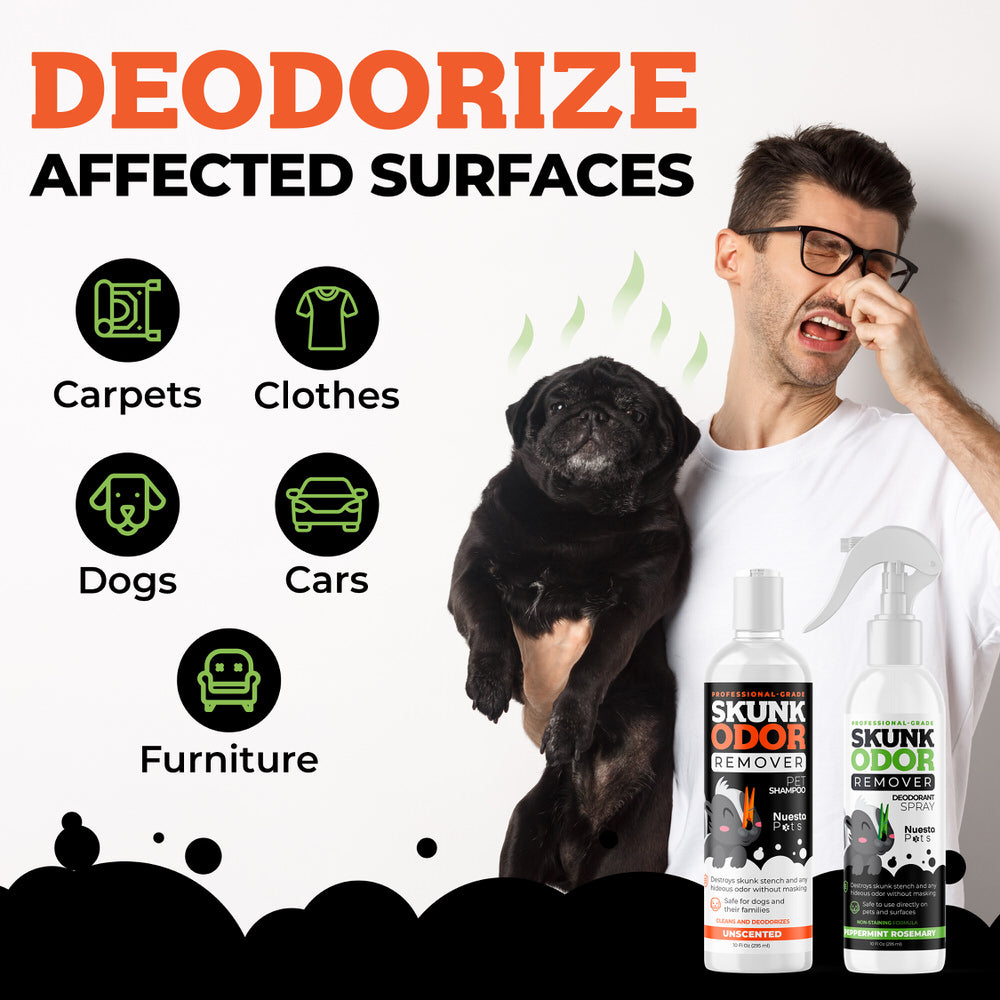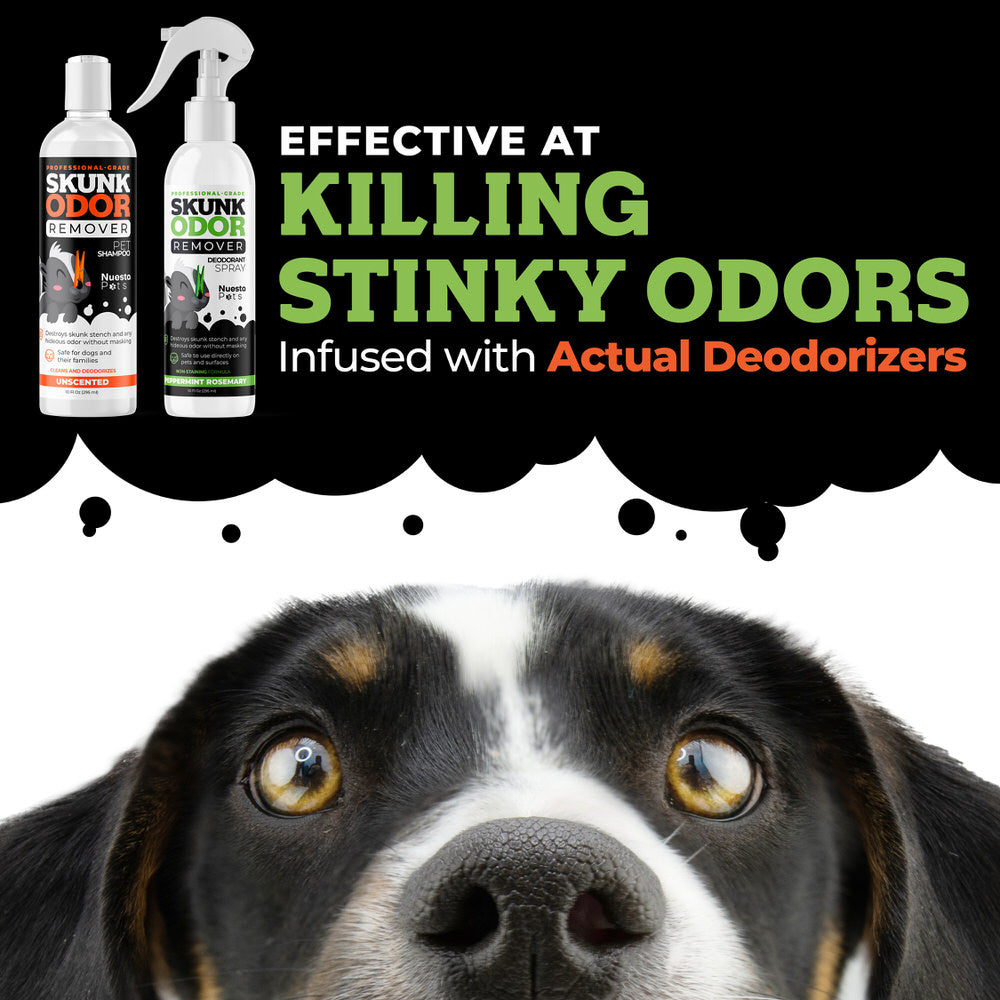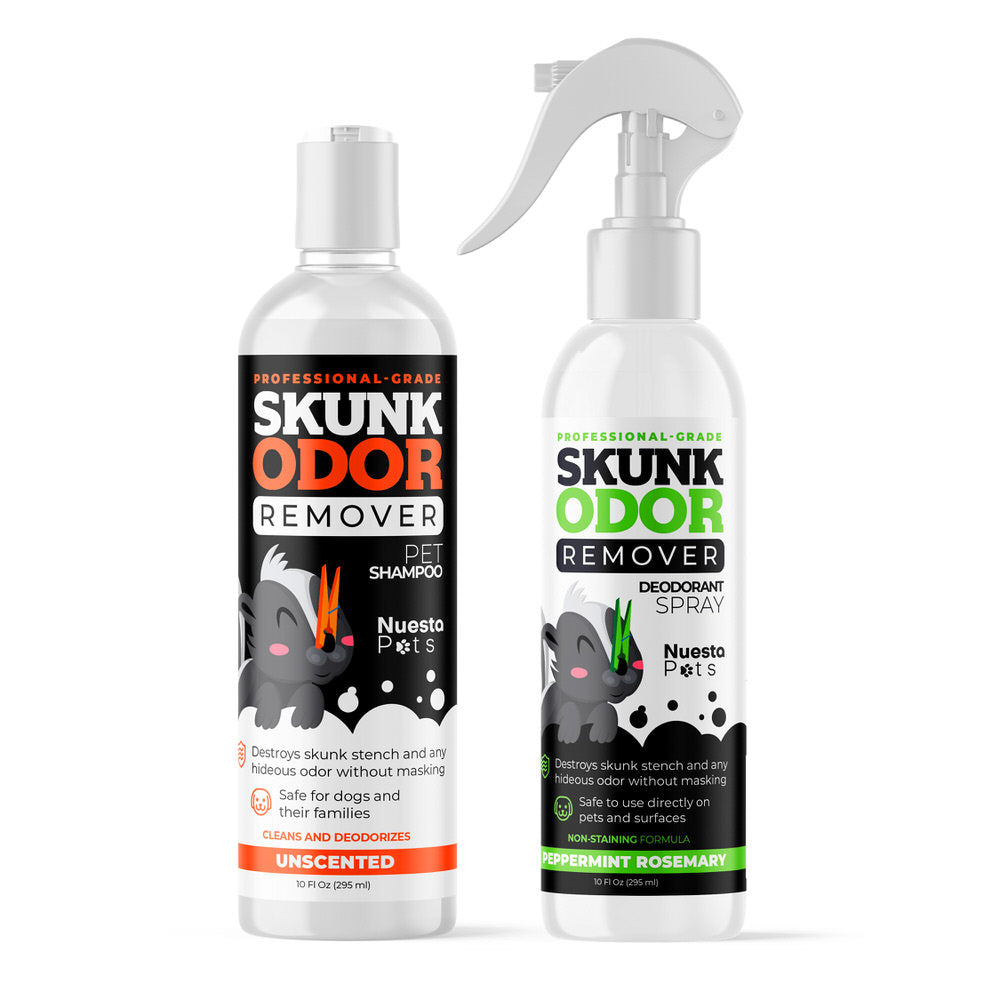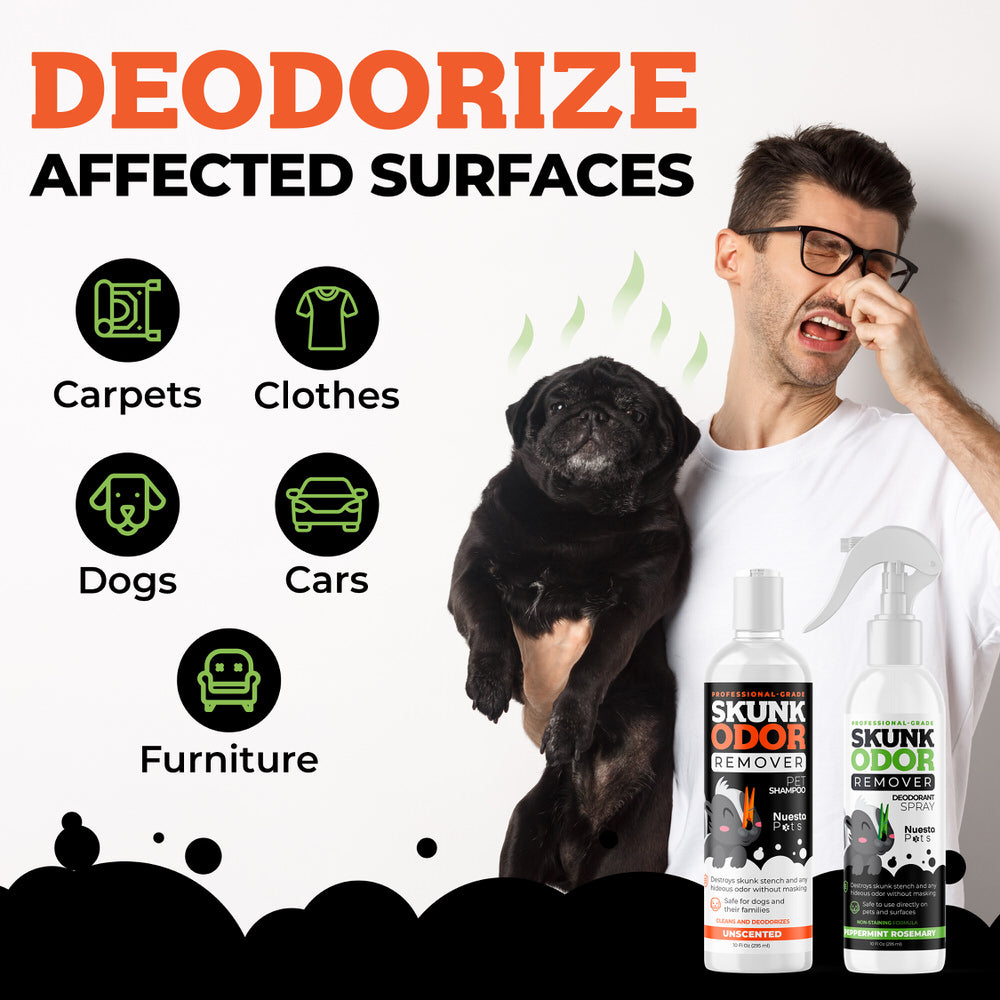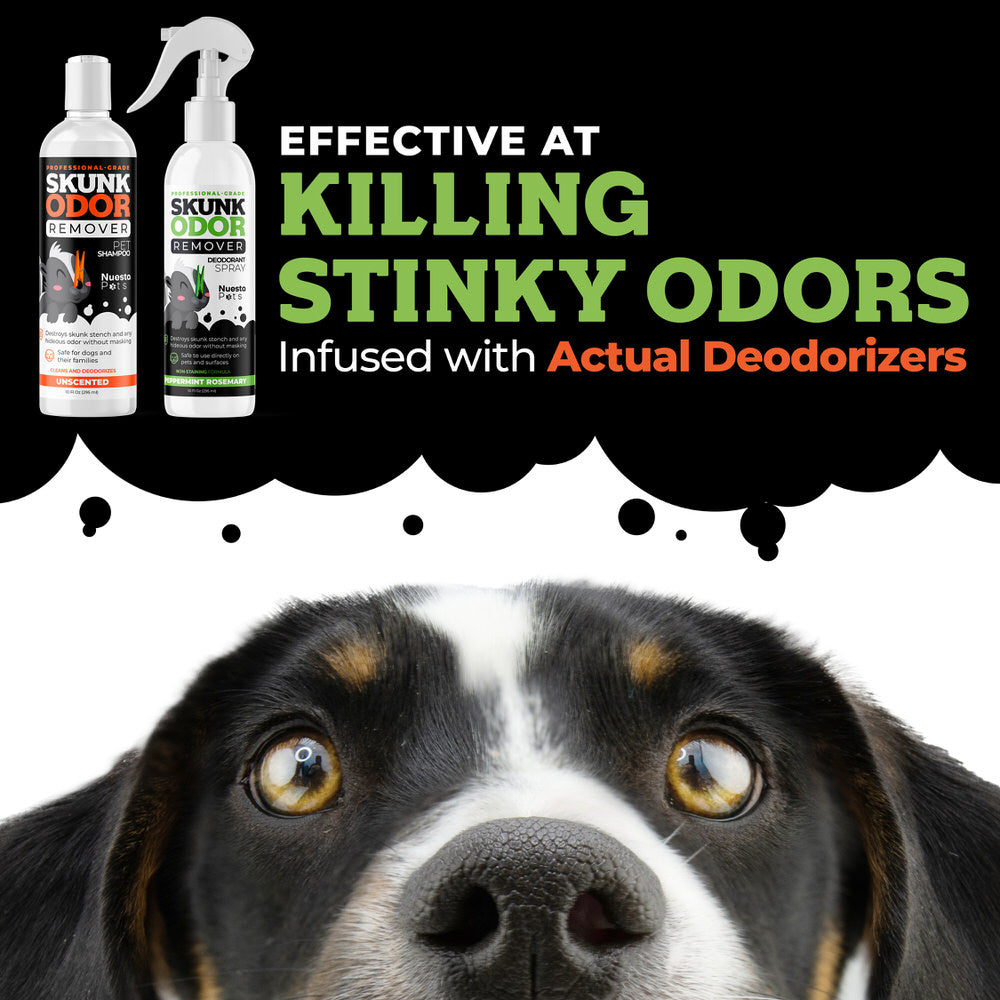 Share
Skunk Odor Remover Shampoo & Spray System
Picture this: your pet returns from an outdoor adventure, only to bring back a potent skunk odor. You're left struggling, without a solution, as the foul smell fills up your home. Don't let this be your story! Arm yourself with the Nuesta Pets Skunk Odor Remover Shampoo & Spray System - the revolutionary solution that eliminates even the most stubborn skunk odors like no other over-the-counter solution. Our activated charcoal formula doesn't just mask the smell - it completely obliterates it. Absorb and destroy strong odor-causing sulfurs and bacteria from pets, upholstery, and clothes. Be ready for any skunk encounters and ensure your home always smells fresh and clean. Don't wait until it's too late - equip yourself with Nuesta Pets Skunk Odor Remover today and breathe easy knowing you're prepared.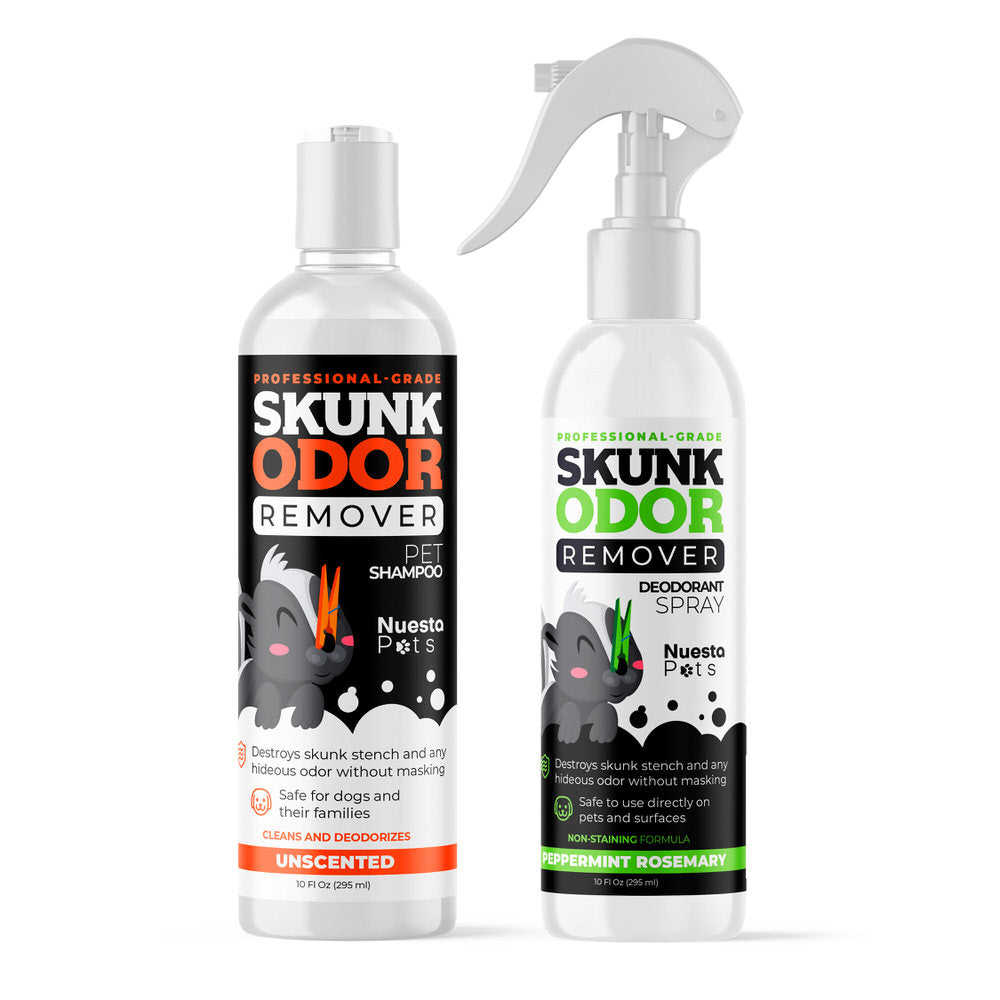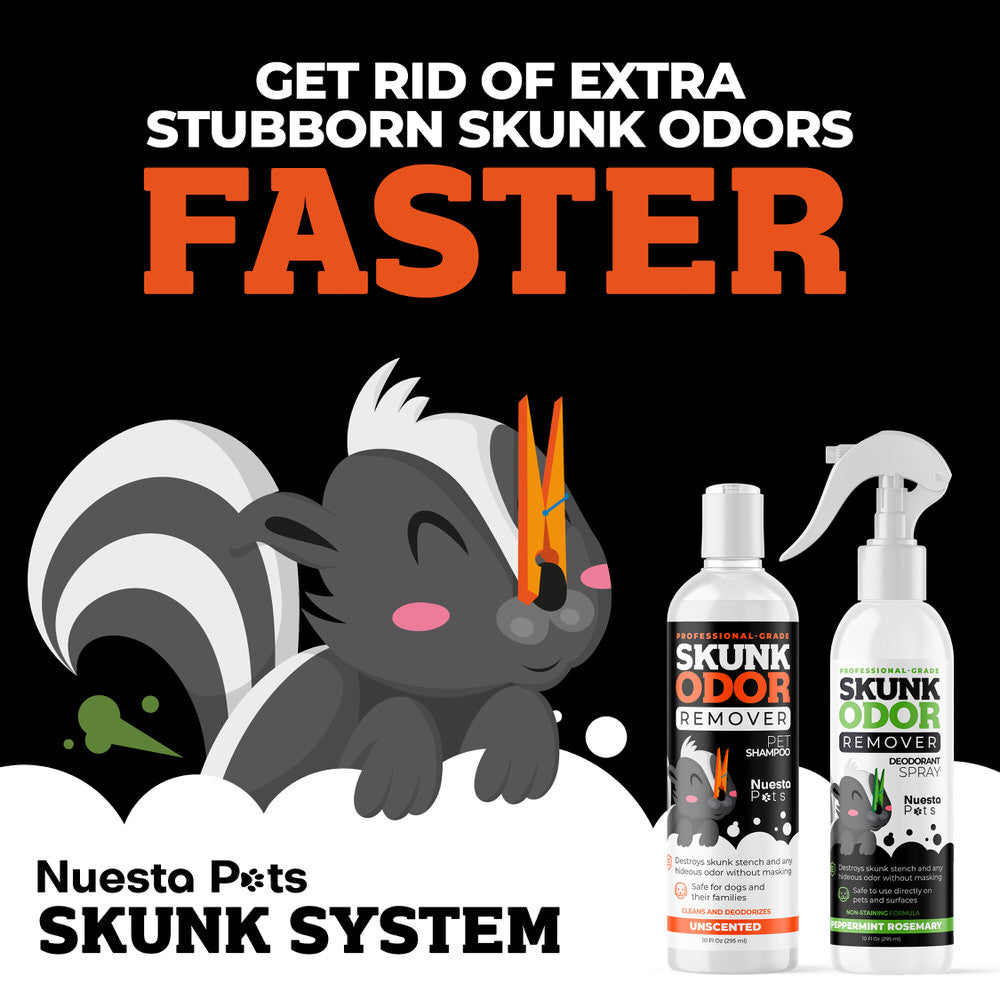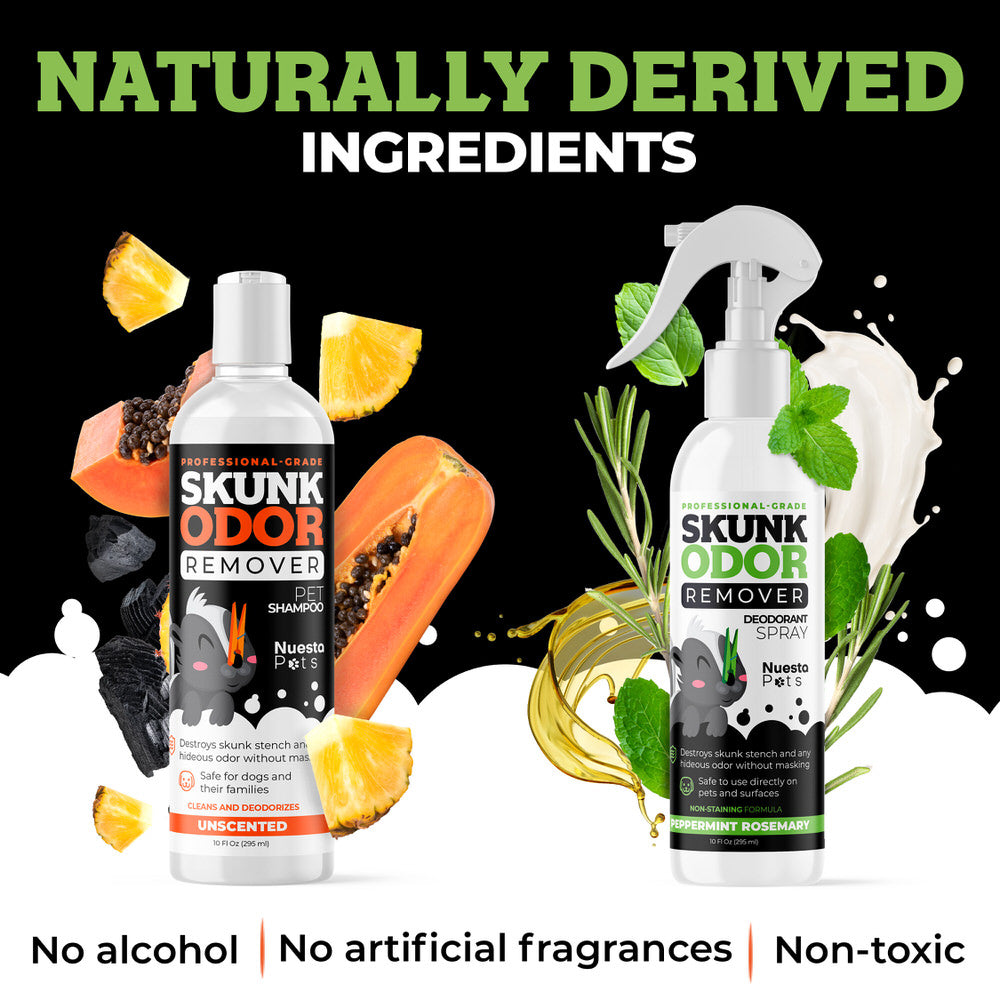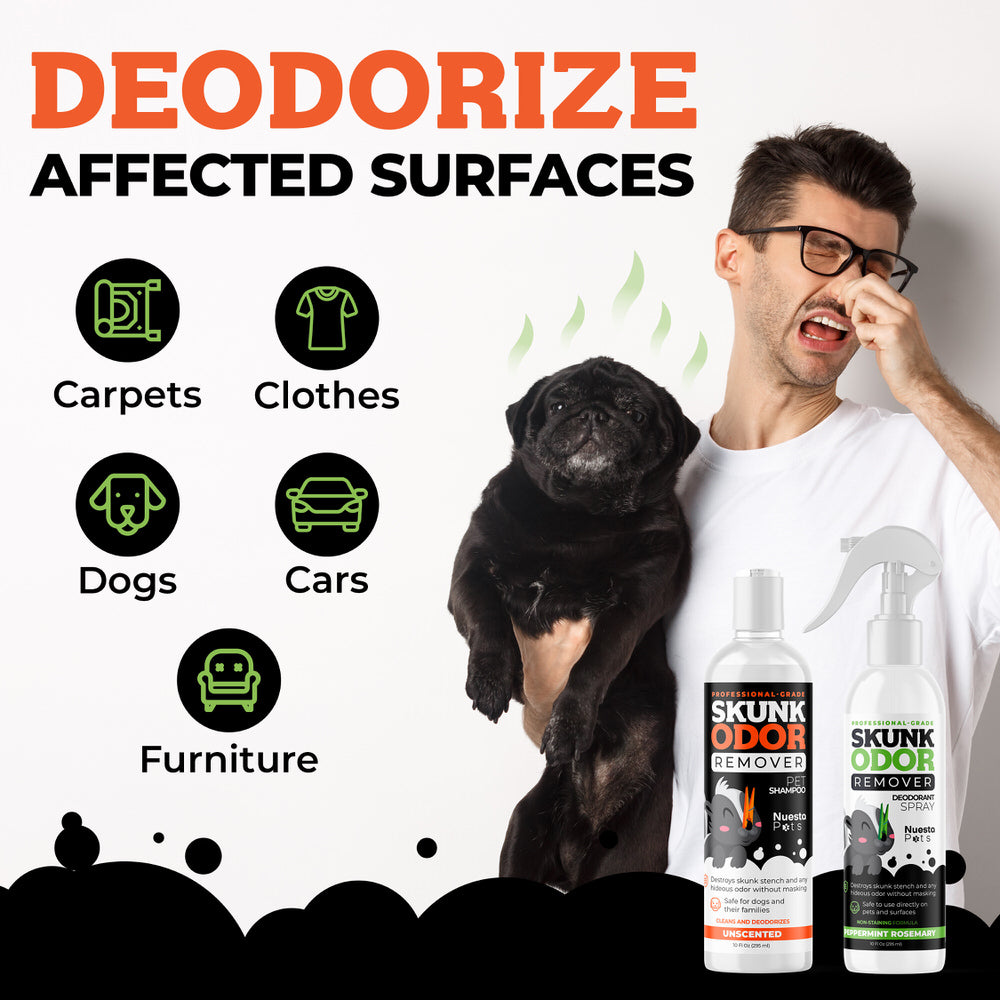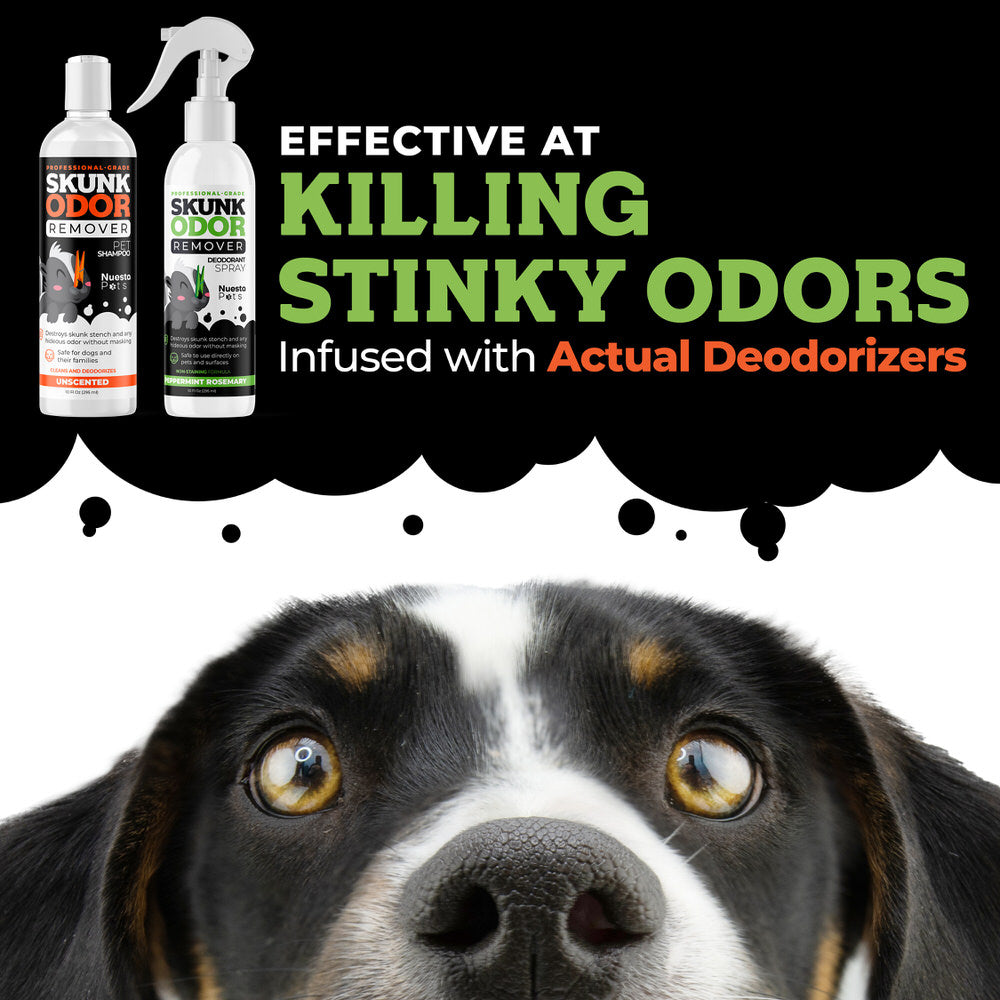 Works like nothing else on the market!

Don't let a skunk-sprayed pet turn your home into a smelly nightmare! Nuesta Pets Skunk Odor Remover Shampoo & Spray System acts as your immediate rescue, obliterating the stubborn musk right at its source.
This two-part odor-destroying system not only saves your pet and home from foul smells, but also ensures a longer-lasting freshness that keeps you at ease.

Unlike ordinary odor removers that simply mask the smell with fragrances, our innovative system actually eliminates the skunk odor, ensuring it doesn't make an unwelcome return.

• Swift and Effective Odor Elimination: Unleash the power of the Nuesta Pets Skunk Odor Remover System on those persistent skunk odors. This system, perfectly safe for both dogs and cats, features a unique shampoo infused with activated charcoal. This ingredient works wonders by absorbing and eradicating odor-causing sulfurs and bacteria, resulting in comprehensive odor removal from pets, upholstery, and clothes.

• Lasting Freshness with Deodorant Spray: The journey to freshness doesn't stop at odor elimination. Our deodorant spray takes it a step further by eradicating any lingering skunk odor and replacing it with a delightful peppermint rosemary scent. This natural, long-lasting odor control ensures that your pet continues to exude freshness, even after their next outdoor escapade.

• Vet-Approved, Powerful Formula: The strength of our system lies in its powerful formula that uses activated charcoal to swiftly absorb strong skunk odors from pet skin and fur. Despite its potency, our alcohol-free formula is gentle on all types of fur, from short-haired breeds to long-coated ones. More importantly, it's vet-approved, giving you the confidence that it's safe and effective for your beloved pet.

• Effortless and Versatile Application: Applying our system is as easy as a light spritz. Use the shampoo like you would a regular dog bath and watch the activated charcoal completely eliminate the odor. Simply spray the deodorizer directly onto the affected areas, be it your pet's skin and fur or home surfaces. Crafted with natural ingredients, our formula provides an effective solution that respects the wellness of your furry companions.

• Gentle Yet Effective on Home Materials: The Nuesta Pets Skunk Odor Remover system is a safe and gentle solution that works wonders on fabrics, carpets, furniture, and pet bedding. It doesn't just mask the skunk odor but effectively eliminates it, infusing your home with a lasting pleasant scent. Reclaim your home's freshness and comfort with confidence and ease.
Don't let a skunk encounter ruin your day - or your home's ambiance. With the Nuesta Pets Skunk Odor Remover Shampoo & Spray System, you're always prepared to tackle skunk odors head-on. Say goodbye to skunky smells and hello to a fresher, happier home.
All Dogs and Cats. Safe and effective on carpets, upholstery.
Shampoo: Water (Aqua), Sodium c14-16 Olefin Sulfonate, Isopropylamine Dodecylbenzenesulfonate, Cocamidopropyl Betaine, Betaine, Sodium Methyl 2-Sulfolaurate, Disodium 2-Sulfolaurate, Potassium Citrate, Activated Charcoal, Lipase, Bromelain, Papain, Calcium Chloride, Lactic Acid, Phenoxyethanol, Ethylhexylglycerin, Sorbeth-230 Tetraoleate, Decyl Glucocide, Sorbitan Laurate Deodorant Spray: Water (Aqua), propanediol, Polysorbate 20, Zinc Politaconate, Decyl Glucoside, Sodium Lactate, Lactic Acid, Natural Fragrance.
Nuesta Pets
---
At Nuesta Pets we know that keeping your pet clean is just as important as keeping them fed and watered!

Pets provide companionship, love, and endless hours of amusement. We return the favor by providing the best quality products to keep your home and your pets looking and feeling paw-some.

1
Pet-Safe
We use only the highest quality ingredients in our products. Good enough for humans, made for pets.
2
Naturally Derived Ingredients
We believe that natural ingredients are the best for your pet's health, and our products reflect that commitment.
3
Easy to Use
Your pets hygiene routine shouldn't feel like a chore. Nuesta Pets products are easy to use and will leave your pet looking and feeling their best.