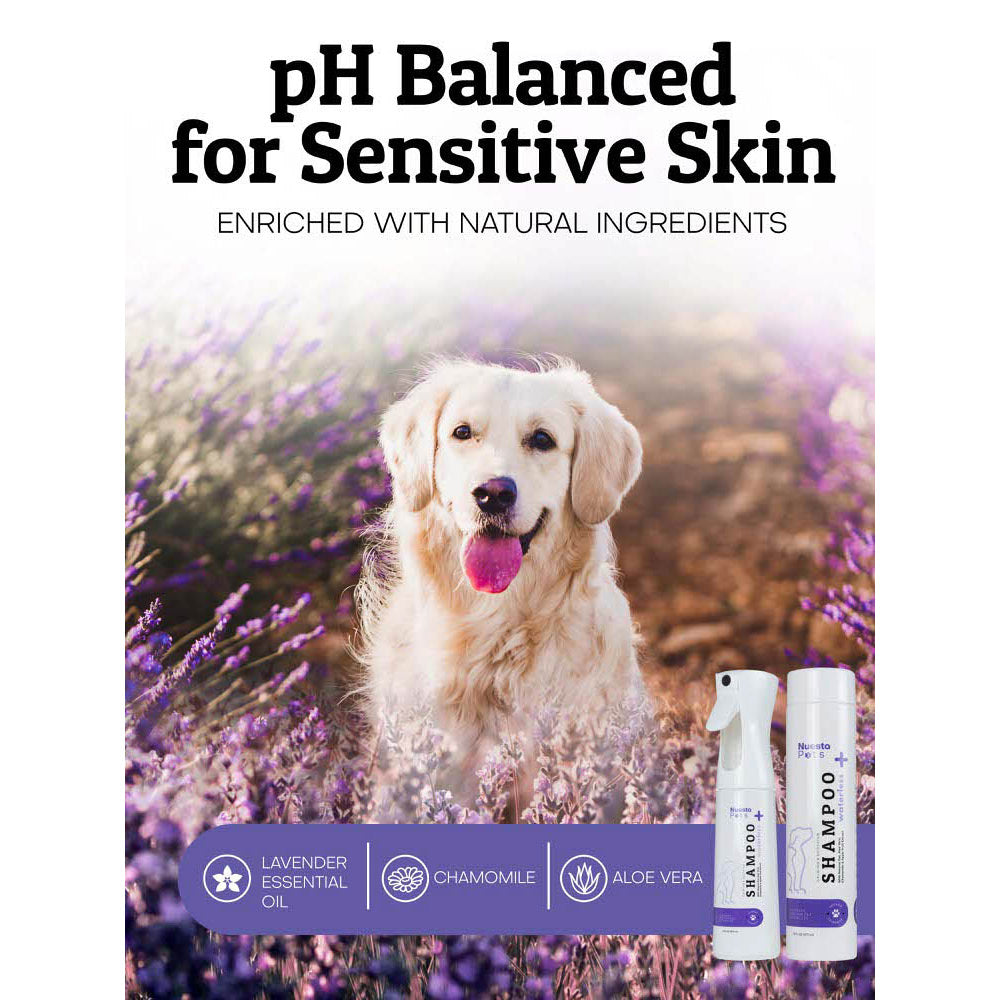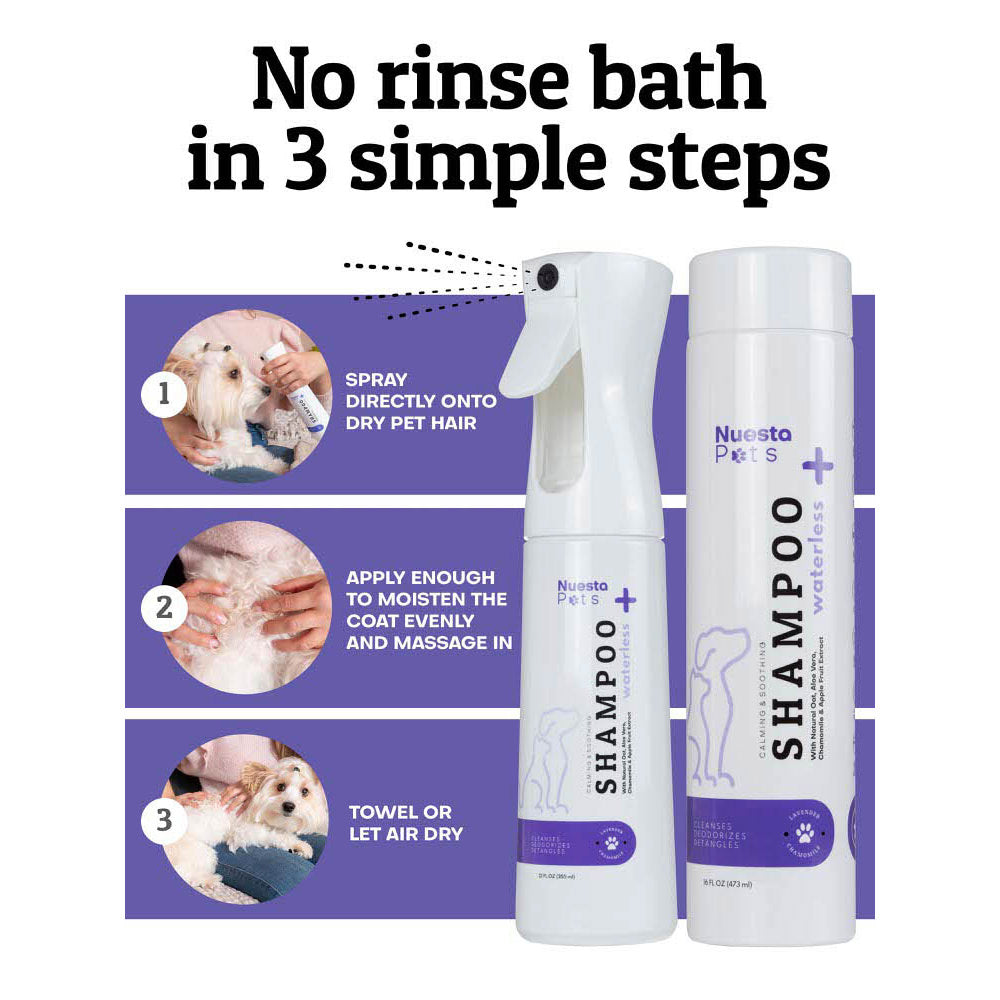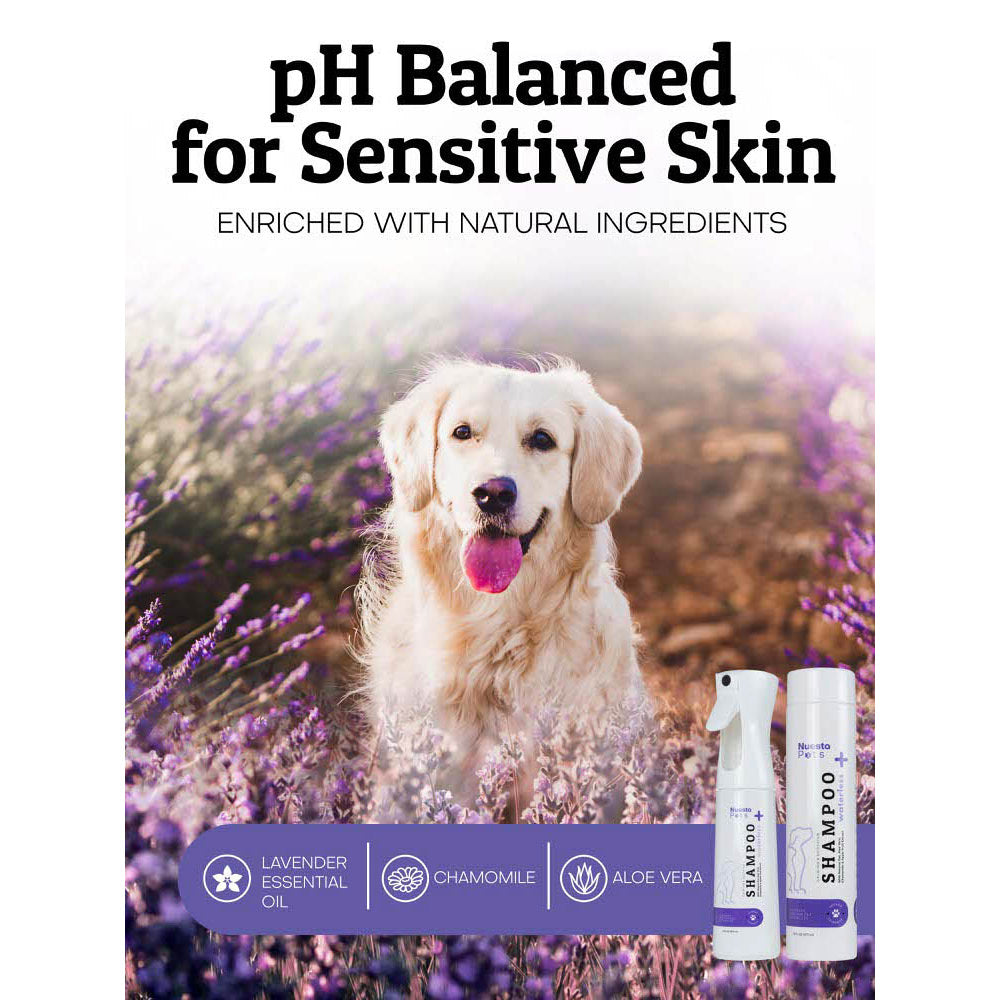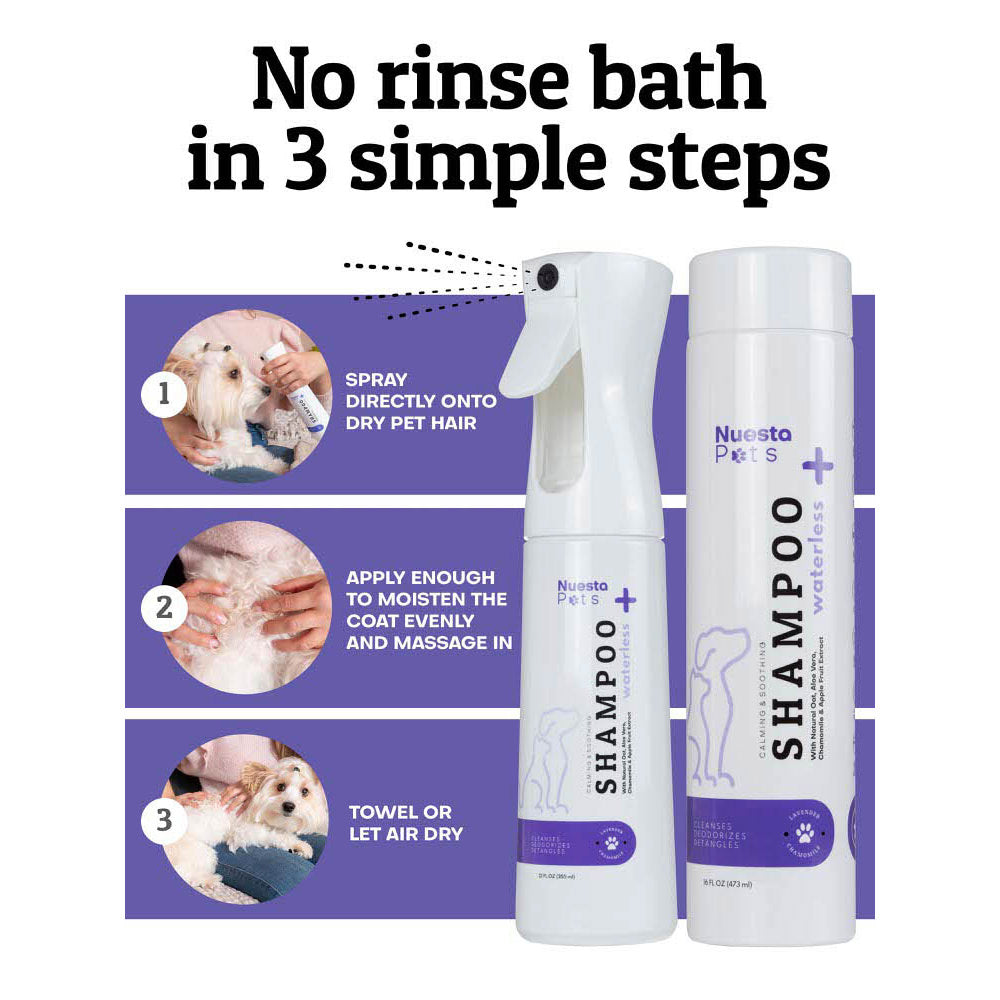 Share
Waterless Lavender Spray-On Dog Shampoo
A must-have for a quick clean with no tub required! Perfect for stinky dogs and puppies, this waterless bath will have your pets clean in no time and without any fuss. Our lavender-scented waterless spray shampoo is made with Witch Hazel, Chamomile and Aloe Vera to cleanse and condition your pet's fur, leaving them feeling clean and refreshed.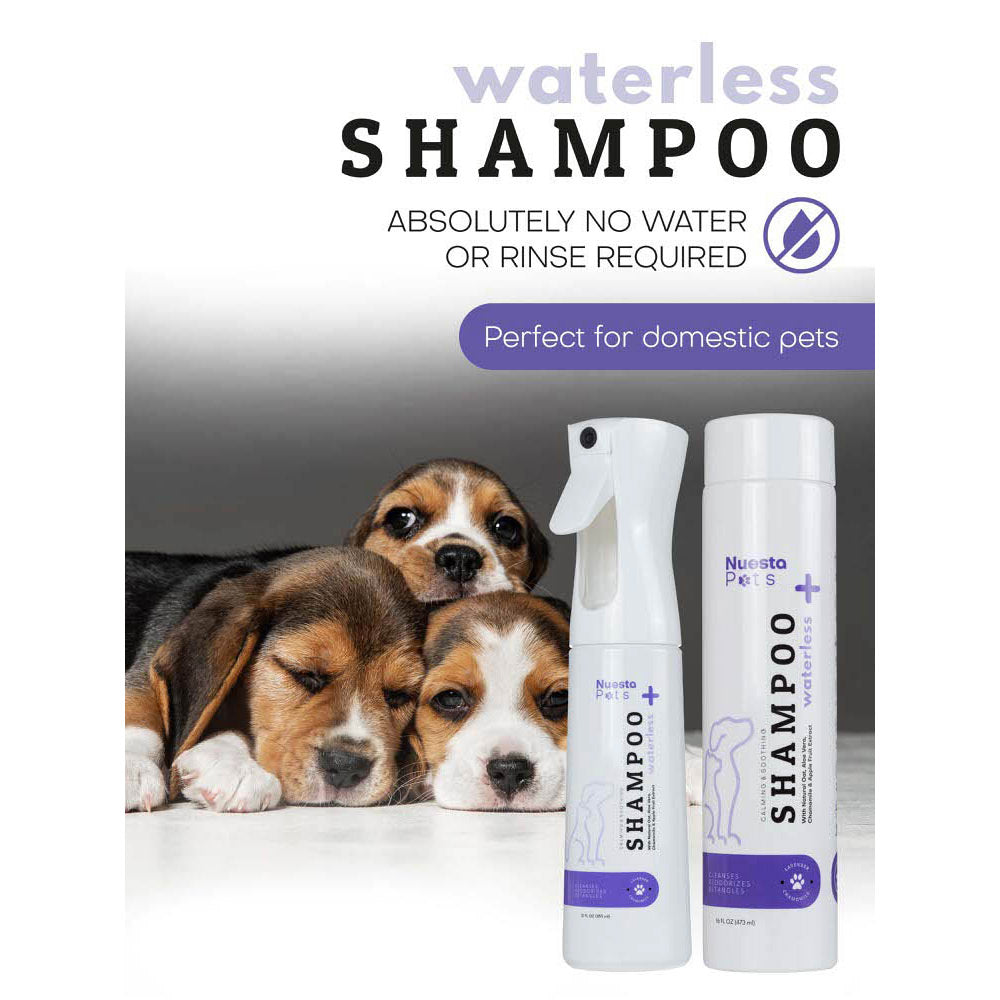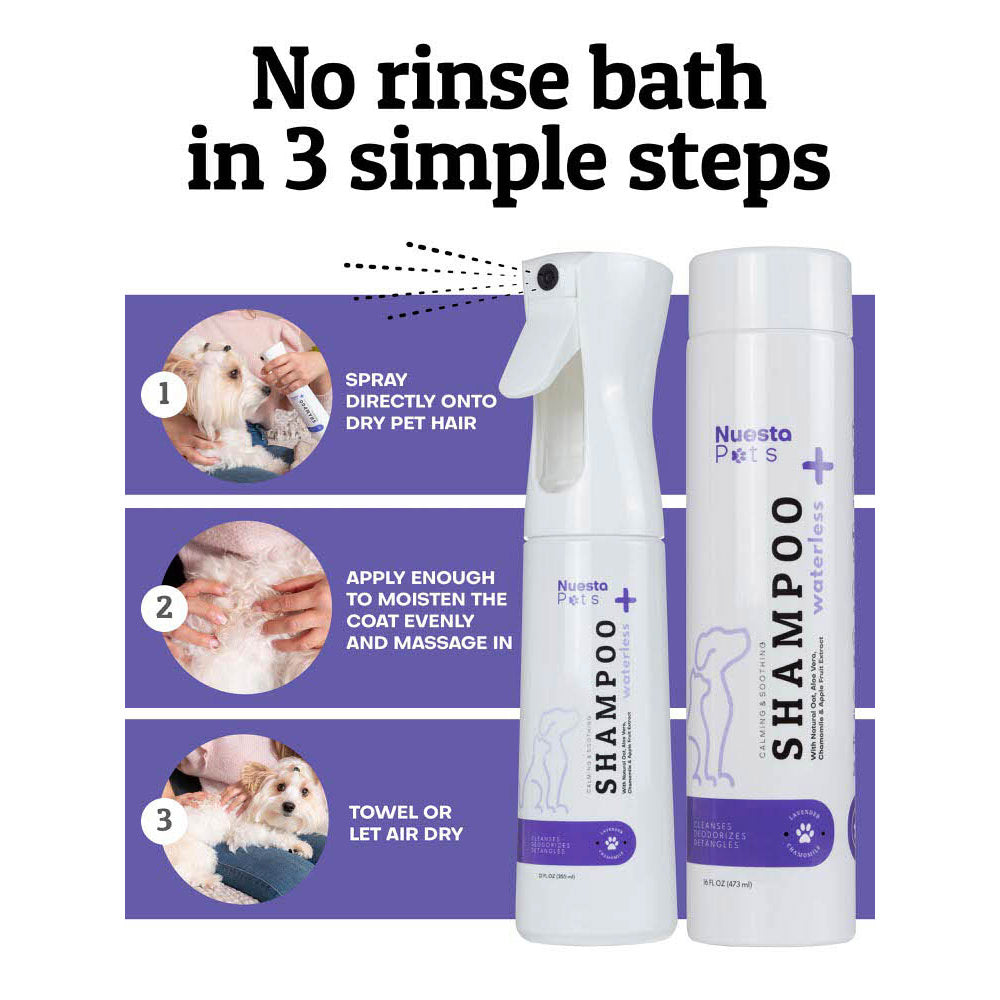 Tired of giving your pet a bath every time they get smelly? That's why we created our lavender-scented waterless spray-on pet shampoo. It's convenient, easy to use, and perfect for when you don't have time for a full bath.

Simply spray dry shampoo directly onto dry fur to moisten the coat, massage in, and towel or let air dry. Dry shampoo with no rinse required.
Our natural ingredients will leave your pet feeling clean and refreshed without any irritation. Your pet will love our naturally derived formula enriched with lavender, organic Witch Hazel, Chamomile and Aloe Vera. Plus, it's pH balanced to match your cat or dog's skin, so it won't upset their delicate balance.
Non-toxic and irritation free with no parabens or SLS. Soap, PEG, & cruelty free. No caustics, dyes, synthetic fragrances, phthalates, chlorine, formaldehyde, triclosan, or phosphates.


Also Available:
Unscented Pet Shampoo for Dogs & Cats
Waterless No Rinse Foaming Dog & Cat Shampoo
Unscented Waterless Spray-On Pet Shampoo
Waterless Lavender No Rinse Foaming Dog Shampoo
Dogs with short-to-medium-length fur. Perfect for: Boston Terrier, Bulldog, Cocker Spaniel, Corgi, Dachshund, Dalmatian, Pug, Russell Terrier, Schnauzer, Shiba Inu
Water (Aqua), Glycerin, Decyl Glucoside, Coco-Betaine, Oat Amino Acids, Aloe Barbadensis Leaf Juice, Chamomilla Recutita (Matricaria) Flower Extract, Lavandula Angustifolia (Lavender) Oil, Tocopheryl Acetate, Sodium Benzoate, Potassium Sorbate, Gluconolactone, Phenoxyethanol, Sodium Citrate, Citric Acid
Nuesta Pets
---
At Nuesta Pets we know that keeping your pet clean is just as important as keeping them fed and watered!

Pets provide companionship, love, and endless hours of amusement. We return the favor by providing the best quality products to keep your home and your pets looking and feeling paw-some.

1
Pet-Safe
We use only the highest quality ingredients in our products. Good enough for humans, made for pets.
2
Naturally Derived Ingredients
We believe that natural ingredients are the best for your pet's health, and our products reflect that commitment.
3
Easy to Use
Your pets hygiene routine shouldn't feel like a chore. Nuesta Pets products are easy to use and will leave your pet looking and feeling their best.